Politics
History of the FONO
Up to 1900: Legislative functions were "fa'a-Samoa" (the Samoan way or in the traditional manner) by the village, county and district councils.
1900: On April 17, Chiefs of Tutuila and Aunu'u ceded their islands (Manuan's ceded theirs four years later) to the United States. The Department of the Navy was assigned to administer the islands, and the Commandant of the Naval Station, Fagatogo, was authorized as the sole executive, legislative, and judiciary authority. The commandant was advised on matters pertaining to local government by the Secretary of Samoan Affairs as well as the district governors who submitted to the commandant recommendations for legislative action and/or improvement of government operations from their respective district councils. The district governors kept the district councils informed of decisions and activities of government.

Continue reading History of the FONO
American Samoa Politics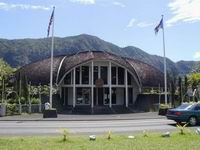 American Samoa is governed by the United States Department of the Interior. It is classified as an unorganized and unincorporated territory. American Samoans adopted a constitution in 1960 and they elected a governor to a four year term. American Samoan has a legislature with a Senate and a House of Representatives. The Senate has eighteen members chosen by the county councils to service two to four year terms. The House has twenty members elected by the people to two year terms. Samoans who are eight years old or older may vote in the elections. American Samoans elect a delegate to the United States House of representatives and that delegate may only vote on House committee issues. While American Samoans are considered to be United States nationals, they are still not citizens of the United States. As United States nationals, American Samoans have freedom of entry into the United States and may apply for United States citizenship. However, Samoans are no longer permitted to move freely between American Samoa and the Independent State of Samoa.Like most Unites States states and territories, the government of American Samoa is divided into three branches, the executive branch, the legislative branch and the judicial branch. The governor and lieutenant governor are elected for four-year terms. The legislature, called the Fono, has two sections, the senate and the House of Representatives. There are eighteen senators, each elected from local chiefs to a four-year term. The house has twenty-one members and twenty of those are elected for two-year terms. The other one seat is appointed as a nonvoting delegate from the privately owned Swains Island.

Continue reading American Samoa Politics